Teenage band of brothers Wise Intentions formed in 2007, and as well as devoting their energies towards fame and fortune, they are also using their skills to benefit those less fortunate than themselves.  Scott Valor, 12 string electro-acoustic/electric guitar, lead vocals; Grant - keyboards, vocals; and Blake - drums, vocals- tell their story: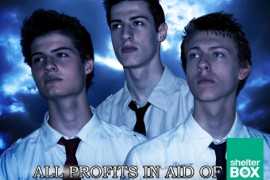 We have just released a song called
To Help Them
which is available for download from 'iTunes' and 'Amazon mp3' for 79p in aid of 'ShelterBox' (please see
www.shelterbox.org
) We have written, arranged, and home recorded this song ourselves. We are desperately trying to raise funds for this fantastic charity.
What we like about 'ShelterBox' is that they are really quick and proactive in helping people anywhere around the world, responding instantly to disasters, delivering aid to those who need it most. When writing the words, it seemed to relate so well to ShelterBox and their work. All profits we receive will be donated to 'ShelterBox'.
We have written 70+ songs. In 2008, we entered 'The UK Songwriting Contest': 3 of the 4 songs entered, achieved semi-finalist positions in the Adult Contemporary category; from over 6200 entrants, we were in the top 15%! In December 2008 we were 'Featured Artists' of the month for 'Gemini Sounds Radio' (airplay to 120 countries.) In  October 2009, we entered 'Ships Got Talent' in Somerset, and were finalists, (over 200 entrants from across 4 counties.)
We are passionate about our music, rehearsing every night. We really want a career as 'Wise Intentions'.  Playing gigs are really special because that's when we relate and interact with our audience. We have a laugh everywhere we play. Usually people don't realise how young we are, especially Scott being only 15!
We have also just released our first album, called 'Sky's Gone Black' which includes our own first few songs available as download.
We play gigs across the southwest. Everyone is fantastic and really supportive. We play covers from Green Day, Muse, Linkin Park, Nickelback, My Chemical Romance, Lost Prophets, Avenged Sevenfold, The Offspring, Stereophonics, and Oasis. We also include our own songs. Our genre is probably melodic rock/indie, although we do seem to be getting rockier on our latest songs.
We've been so fortunate, that's why if we can help this charity help others who have had their lives turned upside down, then we will have done some good!
Please support us by downloading 'To Help Them' and help 'ShelterBox' save lives. Thank you.
For further information on the band and how to buy the single visit the Wise Intentions website here: 
www.wiseintentions.com