It's been an exciting two years for Sophie Madeleine.  She completely sold out of her self-produced and self-released 2009 debut Love.Life.Ukulele., toured in Italy, Germany, the US and the UK, and earned legions of fans with thousands of record sales in 27 countries on 5 continents. Now the Brighton-based siren returns with her second album The Rhythm You Started.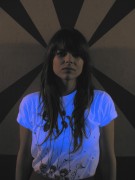 Armed with unshakeable melodies and a delicate vibrato, it's no surprise that this ukulele-based multi-instrumentalist has gained such
international
 acclaim. But what makes her story compelling is that without the benefit of a record label, publicist or booking agent she's built her loyal fan base from the ground up, one song, one show, and one YouTube video at a time.
With
The Rhythm You Started
, Madeleine's goal was to break with the more  traditional organic arrangements put forth on
Love.Life.Ukulele.
Drawing inspiration from Ed Harcourt, Darwin Deez, and Feist,
The Rhythm You Started
offers a seamless blend of folk and synth pop sounds, experimenting with complex rhythms and synthetic beats.  Having recently teamed with XtraMile Recordings (Frank Turner) and PledgeMusic publishing, Sophie is having her biggest year yet in 2011. Her forthcoming single ,
Oil & Gold,
has already received play on BBC Radio 2 by Steve Lamacq. She also recently supported Gruff Rhys (Super Furry Animals , Neon Neon) at his headlining show at New York's legendary Mercury Lounge . She is now touring to promote The Rhythm You Started.
UK, European & US tour dates will be announced.
sophiemadeleine.com
twitter.com/ lovelifeuke
sophiemadeleine.tumblr.com
facebook.com/SophieMadeleineMusic
youtube .com/missophiemadeleine
Contact Sophie directly - info@sophiemadeleine .com