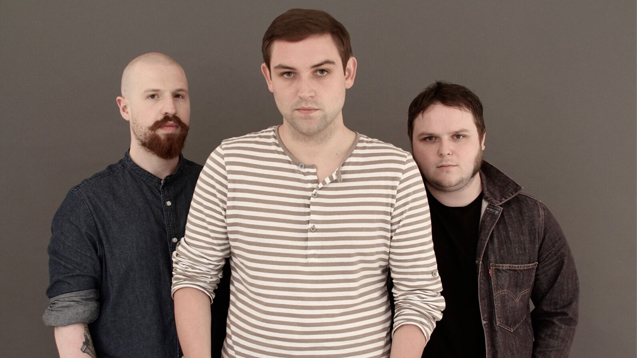 Veering from intensity to euphoria, Scottish post-punkers the Twilight Sad have developed a wonderful noise over the course of four very  well received albums.
The group, consisting of James Graham (vocals), Andy MacFarlane (guitar) and Mark Devine (drums), formed in the villages of Kilsyth and the neighbouring village of Banton, but have gone on to make their music a global sound.
Signed by Fat Cat Records, the band have taken their music - skyscraping guitars drawing on industrial music, krautrock and shoegazing styles - all over the world with latest LP,
Nobody Wants To Be Here and Nobody Wants To Leave
, their most loved to date. It's seen them tour with the Editors and receive backing from the BPI's Music Export Growth Scheme while they've just been named as support for the Cure's 2016 tour… meet the band in our 30 seconds interview below…
We first started writing music because…
We all grew up together in a small town in Scotland and we got drunk at the weekend and listened to our favourite bands. So we basically wanted to be like them so we started the band.
We have been making music since…
Fourteen Autumns and Fifteen Winters
were the first songs we'd ever written.
Our music is…
Loud, Scottish, honest and miserable.
You'll like our music if you listen to...
I'd say we wear our influences on our sleeves. We've been influenced by these bands so I hope if you like them then you'd maybe like us. The Cure, Mogwai, Cocteu Twins, Arab Strap, Joy Division.
Our favourite venue is…
The Barrowlands Ballroom in Glasgow. Growing up we went to see our favourite bands play there. We've just recently sold out our gig there in December which is a massive deal to us.
Music is important because…
It's important to me as it helps me talk about things I'm not able to talk about in day-to-day life. All our songs are very personal so it's a way to get things off my chest. Also I've met all my friends through our love of music. Playing and writing music has taken us places we never thought we'd be able to see and given us opportunities we never thought possible.
Our biggest inspiration is…
I write about where I'm from, people I know and things that have happened to us in our lives. All of those things are the biggest inspiration to me.
Our dream collaboration would be…
With Robert Smith and amazingly it happened this year when he covered our song
There's A Girl In The Corner
.
To try us out, listen to my song…
It Never Was The Same
from our most recent album.
If we weren't making music we'd be…
In the pub.
In 10 years' time we want to be...
Doing exactly the same thing. Writing/recording/Playing music together.
thetwilightsad.com