'UK pop is my favourite sound because we're starting to get really experimental. It feels like nothing's too weird,' says writer/producer/performer Raphaella.
She's chatting about the sounds coming out of studios in London, Manchester and beyond, and the new wave of music creators taking up the mantle and pushing things forward.
With millions of streams and sales under her belt, you may not already familiar with Raphaella's solo work, but you'll have definitely heard her collaborations. Over the last five years, she's penned for Rudimental, MNEK, Steel Banglez, Gorgon City and Wilkinson, while her guest features have been aired across BBC Radio 1 and 1Xtra, MTV, The 405 and Clash.
Drawing from her Anglo-Persian upbringing, and her classical training, she's bringing new flavours to pop, melding snippets of her past to push the movement forward.
Dubbed as a 'triple threat' by
Music Week
, she's also a formidable production force, claiming a sonic stake in a vocation traditionally occupied by men.
For our
Girls Allowed: Pop Power in 2017
feature in the current issue of
M
magazine, she gives us her take on the 21st century studio dynamic…
What sort of music did you grow up listening to?
Well, my great auntie was a concert violinist. Whenever we went to her house, she was super scary because she was really strict but at the same time, she really helped me. I remember playing violin for her when I was about six and shaking because I was so scared.
I grew up around a really musical family. My granddad and my granny on my mum's side were both artists, they met at the Royal College of Art. My granddad's love and passion were vinyl and he spent all his money on records. He would always play Ravel, music from the classical and romantic eras. He adored jazz and Peggy Lee too, so I grew up listening to him blasting all his records throughout the house.
Then my dad would always listen to Michael Jackson, Bob Marley and James Brown in the car so that's where I first heard real soul and pop – and I adored it. He's Persian so, he would also play the classical and traditional Persian music. It's all loaded with those quarter tones and half tones and Middle Eastern sounds that you just never hear anywhere else. I remember listening to it in the car and being transported.
How did you move from playing classical music to making pop?

I was badly bullied at school and that really shaped a lot of my experiences. I was at an all-girls school and it was a really horrible time. I was overweight, which shouldn't even be a thing. I loved learning, I loved English, I loved History and they just picked on me for it.

I was a loner at school and I didn't really want to talk to my parents about it. I felt ashamed, as though something was wrong with me. So I just went to my music. We had music rooms that were empty at lunch breaks and because I didn't have any friends, I went there and wrote.

I didn't even know it was a thing, I was just so upset and so down that I would write music and the lyrics would express how I was feeling because I couldn't really talk to anyone about it.

I learned how to play chords. As a classical musician, you learn in a completely different way. It's linear, you learn to read music but you never really learn how to create music.

It was a really freeing experience for me and at the same time, I was given a part scholarship to the Pineapple Performing Arts School. They had a course that they put on in conjunction with the Met police, taking kids who were being bullied at school and those who were doing the bullying. It was amazing. No one knew who had been bullied and no one knew who was doing the bullying, they just threw us all in this group.

What did you take away from the experience?

It changed me. I think that was the starting point. They encouraged us to bond through music-making.

I had this little four-track Tascam recorder that my mum and dad got me for a birthday. When I got home and got stuck into my music I realised pretty quickly that four tracks were not going to be enough!

I hadn't been introduced to music production at that point, which is another thing I think is a shame, because I was at an all-girls school and they just did classical music. I saw someone using Logic at one of the charities I'm an ambassador for, Global Angels, and I instantly thought it was amazing. I begged my mum and dad to get me it when I was sixteen.


Was production something that came naturally to you?

Like anything, I think you have to start having that love for it. Einstein said genius is one percent inspiration and 99 percent hard work. I think that one percent is the thing that makes you love it.

I've always known that I wanted to do music, I enjoy it and I love it but, everything you have to learn, don't you? You have to put so much hard work in and it's never easy but it's worth it.

Do you find it's still fairly rare to find pop artists who genuinely write, produce and perform all their own music?

Yes, it's a shame. I wish there more girls that did it.

What's your experience been? Was production an open door for you?

I don't think I was even aware of the way that you're made to not really think of it as an option. I'd been producing my own stuff since I was at school and never really thought about it. I was in my own little bubble I guess. I wasn't really in the music industry. I wasn't in the real world.

When I graduated from university and signed to my publishing company I started going into sessions, and it was always just men. Everyone was a man, even to the point where you get emails that said: 'Oh, we're looking for a track guy.' Maybe it's just me and my insecurities but, I think a lot of girls would probably feel like this. I took a step back because I felt like I was intimidated…

Sometimes it can feel like a boys' club and so, I thought to myself, 'I'm a songwriter and I'm an artist'. But a part of me became a bit frustrated because as an artist you have a very clear idea of who you are and what you want to be. When you're young, sometimes you can allow people to dictate who you are without even realising.

As I got older and I got a bit more experience, I was like: 'This is frustrating, why is there a middle man? Why am I telling this man or this producer what I want to hear when I'm fully capable of doing it myself?'

It was a big thing for me to take the step and say out loud, 'I'm a producer'. I don't want to speak ill about guys, but it can feel like a boys club in the studio sometimes. Some guys are really lovely about it but there are others who feel like you're taking over their castle.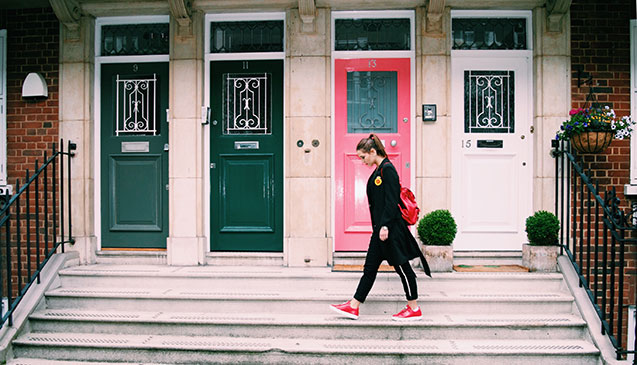 What's the issue these days, do you think?
There needs to be more female role models for young girls to think it's normal to produce. It's just ingrained, I think, even in the way the studio is set up. The producer always has their back to you. We can make it a more open environment for everyone I think. But we have made so much headway in so many different ways.
You work with songwriters and artists all across Europe, but how would you define UK pop at the moment?
It's my favourite sound because we're starting to get really experimental. It feels like nothing's too weird. UK producers that I absolutely adore are Mura Masa and James Blake.
There's a quirky, individual, raw and edgy sound coming out of the studios, which people are starting to accept and go with. It feels like any day you wake up you could create an entirely different new sound and it's open to you. For me, it feels like a great time to make pop!
What's next for you?
I'm releasing two more singles for myself. I've been in the studio with Watermät, Rudimental, Gorgon City and MNEK, and hopefully there are a lot of really cool collaborations coming soon. Sorry I can't say any more!
What about a Raphaella album?
Everyone is doing EPs and albums. I want to come up with cool creative way to release my music. I'm thinking about how I'm going to do that. Everything is going to culminate into a larger body of work.
https://www.raphaellamusic.co.uk/